Electric power monitoring system
首页 > English > Solution > Electric power monitoring system >
Variable distribution monitoring system
Variable distribution monitoring system
Publish Date:2016-11-29 23:12 Viewed times: 作者:admin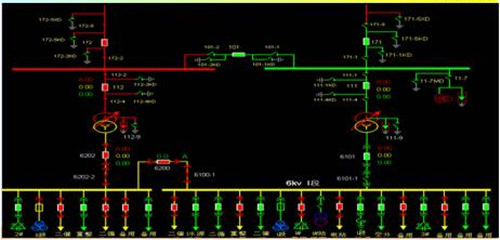 Summary
SLM1100 system is the perfect crystallization of Silimin 10 years` experience with the new operating system configuration technology and power professional technology. Applicable to substations, switching station, power distribution room, power plant, electric power automation system, in normal and fault conditions of power system equipment under the implementation of the monitoring and protection and control, network management system to realize the continuous, stable and secure power supply and optimization.
Major function
Real time monitoring function
Protection management function, fixed value management, fault recording analysis
Demand forecasting function
History trend curve function, report view and print function
Historical events and statistical analysis of data
Perfect user management and authority management function
Bus line coloring function
Simulation and automatic generation of operation tickets;
Real-time video monitoring and alarm video linkage function
Support WEB publishing and mobile wap real-time browsing
Support the operating environment of cross platform,include Windows2000/Vista/XP/WIN7/WIN8、LINUX、UNIX.
It supports both 32-bit computers and 64-bit computer systems.
Flexible system structure and solution: single mode; single server + client mode; redundant server + multi client distributed network architecture.
Support Oracle、Sybase、SQLServer、MySQL.
The man-machine interface is friendly, and the 3D graphics based on OpenGL.
Simulation and simulation functions, support operation simulation and user training, operation ticket management.
Dynamic coloring to make the operator of the power system equipment charged, uncharged, grounding status information at a glance.
Achieve equipment safety management, equipment online safety testing, optimize the management of a device, arrange the maintenance plan.
Integrated video monitoring function, to meet the needs of video surveillance, to achieve the "five remote" function.
Harmonic analysis, Monitoring the quality of power system, vector analysis, sequence test and provide support for various protection test.
Switch control optional with "five anti" lock control, programmable logic control.
The system is built in high-level scripting language, which is convenient for users to develop the high security of the system for the secondary development. Support sound and light alarm, voice alarm, telephone alarm, SMS alarm, etc..
Support distribution room 3D real simulation, realize the monitoring and management of the distribution room, three-dimensional visualization.
0
Comprehensive solution for electric power control in tobacco industry

Tobacco Factory power distribution system covers 110KV, 35KV, 10KV and 400V voltage, Silimin has its own configuration software platform based on the realization of microcomputer protection, intelligent instruments and communication equipment using SPC power communication management machine, read the system required for the current and voltage analog parameters, the switch state and realize remote control function through the PLC collection. Provide comprehensive solutions for monitoring the distribution system of cigarette factory.